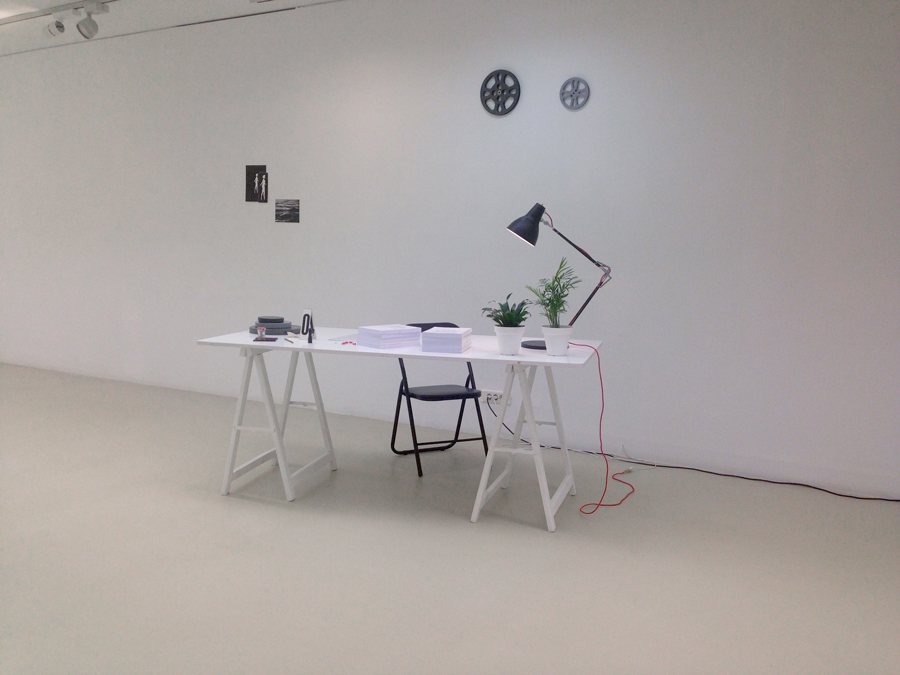 Things Said Once
Performance
Handmade books, balloon, film reels, table and chair, plants, 16mm film projector, digital projector
2015



Things Said Once is an art statement and a praise for film and cinema in recognition of its history and our responsibility in the present. Written as a poem, the text is built around an understanding of cinema as experience in its spatial, temporal and communitarian or social dimensions. Things Said Once is presented both as a text and as a reading in an elaborated environment that includes a series of bodily actions that refer to film history.


Thanks to: Rafael Martínez del Pozo, Rouzbeh Rashidi, Isabel de Naverán, Maximilian Le Cain, Núria Gómez Gabriel, Toni D'Angela, Érik Bullot, Robert Smart, Pip Chodorov, New Media Society, Julius Richard and Gloria Vilches.
«En la performance Things Said Once [Collado] realiza una lectura performativa desde donde organiza más de cincuenta citas de cineastas y teóricos con sus propias reflexiones sobre la vocación filosófica del medio, acompañándolas con una coreografía gestual a través de distintos objetos. Es una re-organización de diversos materiales, tales como la duración, la modulación de la luz, el montaje y el cuerpo del proyeccionista que, en última instancia, sugiere que la teorización del cine puede ser también práctica de un cine por otros medios. Things Said Once es una metamorfosis que le sirve a su autora como una declaración de intenciones. Un intento de describir la experiencia cinematográfica.» Núria Gómez Gabriel (APNEA 8: una conversación con Núria Gómez Gabriel)